Introduktion
Dette spil kaldes Drop Shot og er det mest nervepirrende og sjove drukspil vi har prøvet. Vi har talt med Mat, der er grundlæggeren af ​​Drop Shot og han er gået med til at lave et interview med os.
" Seeing people enjoy the game is by far the best thing. "
Sådan fungerer det
Hvis du ikke har set videoen, skal du gøre det nu … Du kan også tjekke deres Instagram @dropshotthegame. I Mats egne ord er ideen med spillet: "It's a Russian roulette of sort shot game. You fill the cup up, roll the dice to see how many times to turn the handles, then on a random trigger, the shot will release down the tube and into the players' mouths!"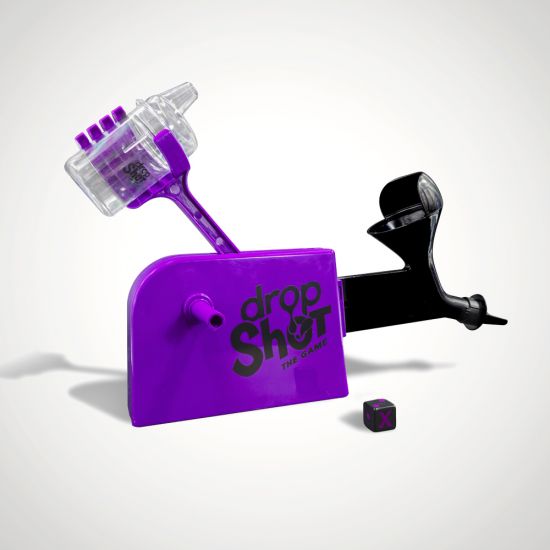 Holdet bag
Bag den lilla shot-skydende maskine sidder Mat. Mat opfandt spillet og har opbygget brandet fra bunden af! Han fik ideen tilbage i slutningen af ​​2016 og begyndte at arbejde på den i 2017. I begyndelsen kæmpede Mat med fjedre, der kunne katapultere drikken, have en robust flaske, hvor låget ikke røg af og spildte den dyrebare alkohol. "Must have made around 10-15 different versions!" Siger han, men efter et års hårdt arbejde afsluttede han og lancerede sit produkt "Drop Shot".
Mat blev inspireret af et lignende spil, du kender det måske? det involverer creme og dit ansigt. (se nedenunder)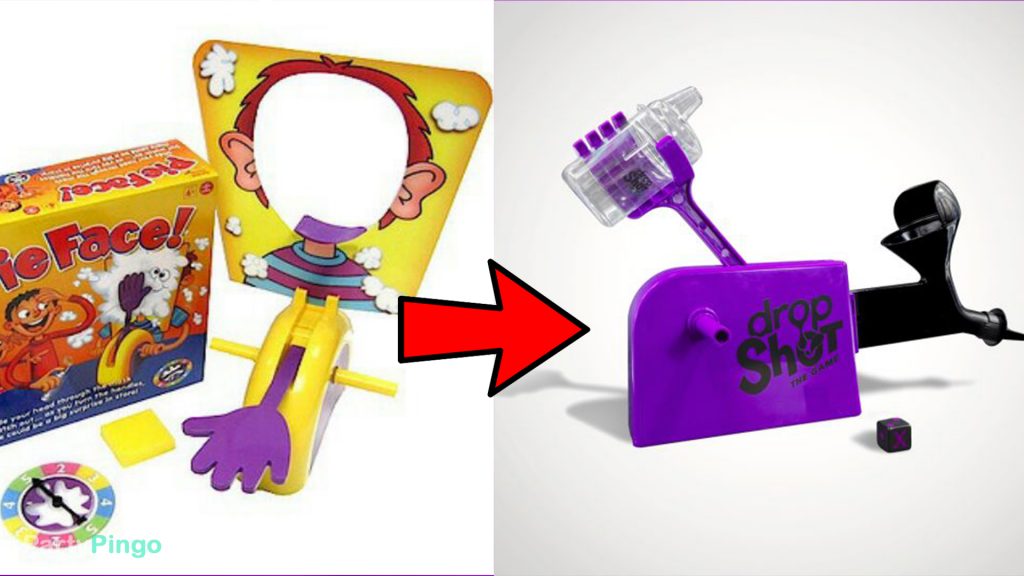 Mat spillede dette velkendte familiespil ved en vens nytårsfest, hvor den person, der fik en tærte i ansigtet, også skulle tage et shot. Han tænkte, det ville være en god ide at skære "mellemmanden" ud, og bare tage det forfærdelige shot. "The suspense was the best part and the shot we poured was disgusting, so definitely did not want it! ", Siger Mat.
Ikke alle kan håndtere Drop Shot
Når du driver et drukspilfirma vil du opleve nogle sjove ting, og i dette tilfælde oplevede Mat en som havde det hele i munden (eller på gulvet), "Seeing people say that they will do that shot no problem and failing, one guy did a mix of vodka and whiskey and was saying it was not going to be tough to do it, and filled the cup quite high, then I guess karma got him as it triggered on his turn and less than a second after hitting his mouth he pulled away leaving a big puddle on the floor. "
"The suspense was the best part and the shot we poured was disgusting, so definitely did not want it!"
Drop Shot fremtidsplaner
Mats mål er at få så mange mennesker som muligt til at havde det sjovt med det spil han har lavet. Men udover det fortæller han os, at deres største problem i øjeblikket har været at få godt content, det er derfor, de snart vil tilbyde folk penge, for at sende videoer som de kan bruge på deres sociale medier. win win!
Køb Drop Shot's drukspil, og del dine oplevelser!
Instagram: https://www.instagram.com/dropshotthegame/
Facebook: https://www.facebook.com/dropshotgame/
Twitter: https://twitter.com/dropshotgame
Youtube: https://www.youtube.com/channel/UCZ6FqgtO_lqEhjimMrmZXeQ